For Sale
2017 kiddings have wrapped up, a few adults and a LaMancha wether available. 2018 tentative kidding schedule is posted let me know if something interests you!
Payment
Dragonfly SOL Jump for Joy- 6/18/15
For sale in milk $450. includes a free fall driveway breeding!
Dam: Dragonfly B Dido LA VVEE 89

Sire: Algedi Farm MH Solaris

2017 1x3

2016 2x1,2x2,1x3

Working on having most of my animals bearing my herd name and retained 4 doe kids this year so someone has to go.... Lovely FF udder, easy kidding and a sweet personality. This is a repeat breeding that produced the lovely Dragonfly SOL Juno, LA V+VV 88(FF).
Photo courtesy of Joanne Karohl

AR Lynnhaven BDH Sumiko 1*M- 3/6/12

Dam: Lynnhaven KT Sayori
2013 LA EVEE 90

Sire: Kastdemur's Burningdownthehouse
For sale dry $300. includes a free fall breeding. Excellent brood doe and milker.
2014 2x1st, 1x2,2x3
2-01 268 1,929 72 68 (dried off)
2014 LA VVVV 86
Fabulous new addition to my herd. Very well put together yearling, she really grabs your eye with her shiny black coat and lovely head and top line. Thanks Ellen and Lynn for steering me towards her! Sumiko freshened with a high strong mammary system, very easy to milk and every judge has commented that you won't see a rear udder higher than this one.... retained her doe kid Brie.



J31 Sunnydale Farm I TBD dob-4/29/17 under deposit $150. wether BM

Sire- Castle Rock Iceberg

Dam- Dragonfly SOL Jump for Joy
Sunnydale Farm U Harrison dob-4/20/16

Sire- Woodbridge Farm Uncas

Dam- SGCH Sunnydale Farm J Electra-Like LA 90
Available for $350.
Used a well bred outside buck to compliment some lines I am working with. Thanks to Sisters Three for letting me use him. This boy has nice conformation and is cute as can be! Will be a down sizer buck.Experimenting with my own bred bucks the next few years and I bred Harrison to the 2 does I wanted to so he is offered for sale.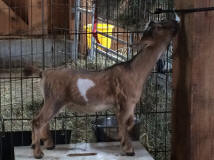 J19 Sunnydale Farm M TBD dob-3/20/17
available as a wether $100.

Sire- Lynnhaven WAA French Martini

Dam- Lucky*Star's LD Filigree

Brown but undercoat is whitish.